One of our eye-catchers in the liquid flow product line portfolio is the Coriolis flow meter. Our Coriolis flow meter series was introduced in 2007 and since then a huge success for both gas and liquid flow measurements in the industry as well as lab applications.
At their introduction the Coriolis instruments got the name 'mini CORI-FLOW'. This name was chosen for two reasons: it was a small flow meter and it measured and controlled low flows, using the Coriolis principle. Saying something is ''small" or handles "low flow" is about as subjective as the answer to "How long is a piece of string?".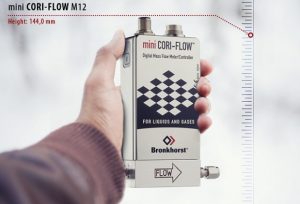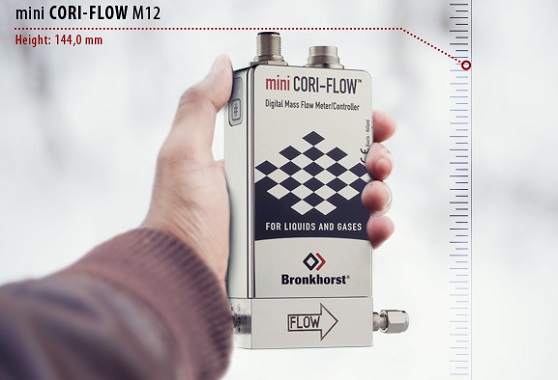 Flow meters: size matters
The mini CORI-FLOW flow meter models M12, M13, and M14 are only 144 mm (5.67 in) tall, 32mm (1.26 in) deep, and (for a controller with integral valve included) only 146mm (5.75 in) end to end. To put that in better perspective, the Samsung Galaxy S21 smartphone is 151.7mm (5.97 in) tall.
mini CORI-FLOW Coriolis Mass Flow Meter, principle of operation
A fully functioning 'mini CORI-FLOW' flow controller, a complete control loop consisting of measuring sensor, PID control, and control valve will all fit in your hand about as well as the latest smartphone! There is not another Coriolis-based complete control loop in the world that is as compact as the mini CORI-FLOW mass flow meter. Granted you will likely not be holding it in your hand, so why does that matter?
Because real estate in a system creates cost; the less space needed, the lower the cost. Because it may be critical to have the final control element (valve) as close to the point of measurement as possible; if you can't fit a sensor, transmitter, and control valve into a small space near the point of injection into a reaction your system may not be able to perform as required.
Coriolis flow meters on the market
There are some heavy hitters in the Coriolis world, and you may have your favorite that you use as standard, but if you want the accuracy, speed, and stability of Coriolis measurement and control at low flows then Bronkhorst should be on your list for consideration. You may find that, depending on your flow requirement, Bronkhorst may be the only name you can put on your list.
"Low flow", what is low?
Back to our objective view; the mini CORI-FLOW mass flow meter (model ML120) can measure flows as low as 0.05 g/h (grams per hour). To give you a better feel for just how low a flow this is, consider that if your favorite coffee house were to flow coffee at 50 g/h (which is 1.76 ounces per hour) it would take 6.82 hours to fill your small (12 oz./350ml) coffee.
Those of you who require a harder push in the morning should place your order the night before as the big one (20 oz./590ml.) would take 11.4 hours to fill! Better hope they don't use the lowest flow of 50 mg/h (milligrams per hour) or that small coffee would take 6,818 hours (284 days) to fill.
We have yet to provide a mini CORI-FLOW mass flow meter specifically for filling a morning cup of coffee but there are mini CORI-FLOW instruments measuring and controlling various fluids in applications where it had initially been thought that Coriolis technology could never be applied because the required flow was too low for the technology.
Coriolis-based instruments in our customer's applications: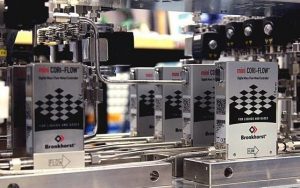 Our Coriolis flow meters are used in many different kinds of applications around the globe. In pilot plants in the chemical market, dosing ingredients in food applications and even in medical applications. Some examples:
To improve the accuracy and quality in a process for supercritical CO2 for fragrant & oil extraction.
Flow meters used with pressure controllers for a simulation to test bioresorbable sealant patches.
Mini CORI-FLOW combined with a high pressure pump to accurately dose liquefied gases at high pressures.
Request a Quote
Need a Quote? Leave us your email along with a description of the products you need quoted and we will get that right over to you!