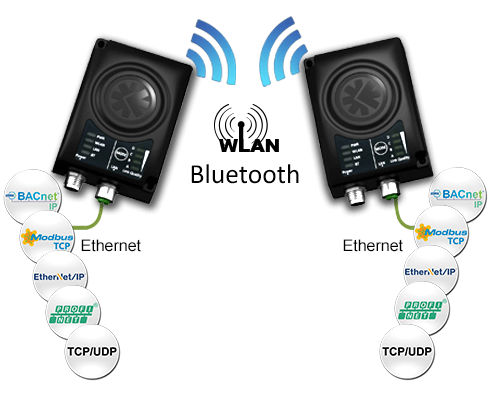 Anybus Wireless Bridge II
Product Description
Anybus® Wireless Bridge enables you create an industrial wireless connection between two points in an industrial Ethernet network. This second generation of the proven and trusted Wireless Bridge can communicate via both Bluetooth and WLAN and is ideal for communication through hazardous areas or hard-to-reach locations where cables are not desirable. It provides an effective wireless range of up to 400 meters.
BRIDGING TCP/IP ETHERNET
The Wireless Bridge makes it possible to operate leading TCP/IP based industrial Ethernet networks, such as BACnet/IP, PROFINET, EtherNet/IP and Modbus TCP, over Bluetooth an WLAN 2.4 / 5 GHz.
POINT-TO-POINT OR MULTIPOINT
Point-to-point or multipoint Anybus Wireless Bridge is often used as an Ethernet cable replacement (point-to-point communication). But it can also be used as an access point for up to seven WLAN/Bluetooth clients.
Product Details
Bluetooth® Interface
Supports Bluetooth v4.0
Supports profiles: PANU & NAP
Operates as an Access point or Client
Connects up to 7 Slaves as an Access point
Max throughput: 1 Mbps
WLAN Interface
Supports Dual-Band WLAN 2.4/5 Ghz frequency
Conforms to IEEE802.11 a/b/g/d/e/i/h specification
Operates as an Access point or Client
Connects up to 7 clients as an Access point
Max throughput: 20 Mbps
Ethernet Interface
Supports Ethernet protocols: IP, TCP, UDP, HTTP, LLDP, ARP, DHCP Client/Server, DNS support, SNMP user management and access control
Supports wireless bridging of Industrial Ethernet protocols: BACnet/IP, EtherNet/IP, Modbus-TCP, PROFINET
Ethernet interface: 10/100BASE-T with automatic MDI/MDIX cross-over
Technical specifications
Wired interface Ethernet 10/100 Mbit/s
Wireless communication WLAN (2.4/5GHZ) or Bluetooth (interchangeable with same hardware)
Dimensions (H•W•D) 93 x 68 x 33mm
Weight 120g or 0,26 lbs
Operating temperature -30 to +65 °C or -22 to +149 °F (Storage temp: -40 to +85 °C )
Antenna gain Internal: 2.4 GHz: max 2dBi. 5 GHz: 0.5 max dBi
External: Max 3 dBi
Power supply 9-30 VDC (-5% +20%), Cranking 12V (ISO 7637-2:2011 pulse 4). Reverse polarity protection.
Power consumption
0.7W idle, 1.7W max
Enclosure material Plastic PC/ABS (Bayblend FR3010)
Mechanical rating IP65
Mounting Two screws (Ø 4 mm) on flat surface. DIN rail mount option available (optional accessory).
Max range 400 meters
Configuration Three different methods:
Accessing the built-in web pages in the product
Using Easy Config modes (via push button or inside web interface)
Sending AT commands
Connectors 1x M12 for Ethernet (4-pin, D-coded).
1x M12 for Power 5-pin, A-coded)
CERTIFICATIONS
Europe ETSI R&TTE / EN 300 328 V1.9.1 (2015-02), EN 301 893 V1.8.1 (2015-09)
USA FCC 47, CFR part 15
Canada ICES 003
Japan MIC (pending, pre certified radio module)
Taiwan NCC (pending, pre certified radio module)
South Korea KCC (pending, pre certified radio module)
ATEX ATEX/IECEX Category 3, zone 2 according to EN 60079-0 and EN 60079-7 (Pending)
UL-Haz.Loc UL & cUL Class 1 Div 2 (Pending)
WLAN Security WEP 64/128, WPA, WPA-PSK and WPA2, TKIP and AES/CCMP, LEAP, PEAP.
Bluetooth Security Authentication & Authorization, Encryption & Data Protection, Privacy & Confidentiality, NIST Compliant, FIPS Approved
For more info please visit the product's website.
Documents