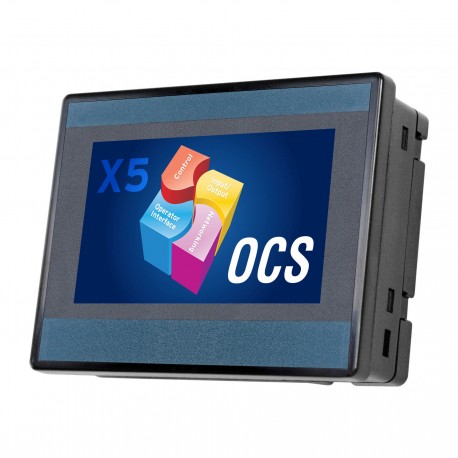 X5
Product Description
WIDE ASPECT COLOR TOUCHSCREEN
The X5 really packs a big picture into an overall small package. With just a 4.6" x 3.5" cutout, this 4.3" wide aspect screen is very friendly, intuitive, and clear. By incorporating our hidden soft key technology, you can use the entire screen to illustrate your specific applications.
STREAMLINED I/O
In an effort to make implementing Horner OCS controllers as seamless and user-friendly as possible, we have selected a streamlined set of on-board I/O. 4 digital inputs, 4 digital outputs, and 4 analog inputs make automating your applications, and your organization, as simple as the push of a (virtual) button.
PERFORMANCE
When it comes to speed, resolution, and technical capabilities, the X5 is leading the way. We have developed some entirely new design techniques, a suite of capabilities similar to our more established XL line of products, and unprecedented acceptance across an array of commercial and industrial applications. In the market of fixed I/O, web-compatible controllers, the X5 is unmatched.
Product Details
CONTROLLER
Ladder Logic Memory 1 MB
Logic Scan Rate 0.013 mS/K
Removable Memory microSD
Local Comment Storage
Floating Point Support
AutoTune PID Capable
Motion Commands
OPERATOR INTERFACE INTERFACE
Characters / Pixels 480 x 272
Display Technology 4.3″ TFT Color
Character Height Selectable Fonts
Number of Pages 1023
Fields or Objects per Page 1023
Total Keys 5 (on screen)
Function Keys 4 (on screen)
OEM Faceplate Available
I/O
Built-in I/O Points 12
SmartStix, SmartRail, SmartBlock I/O Support, CsCAN and Ethernet
Digital Inputs / Outputs, max 2048 / 2048
Analog Inputs / Outputs, max 512 / 512
General Purpose Registers (words) 8,912 (1,024 retentive)
General Purpose Internal Coils (bits) 2,048 (1,024 retentive)
ETHERNET/INTERNET
Ethernet Support standard
Remote Access HTTP or EnvisionRV
Remote File Access FTP or EnvisionRV
SERIAL COMMUNICATIONS
Total Active Ports 2
RS-232 Ports / RS-485 Ports RS-232 / RS-485 (1 of each)
PLC / Drive Protocols
RTU / Modbus Master / Slave
Serial ASCII In / Out
USB Ports (A and Mini-B)
NETWORKING
Integrated CAN Networks Standard
Supported CAN Networks CsCAN, CANopen (firmware change), DeviceNet Master (contact factory), SAE J1939 (contact factory)
Maximum CAN Distance 1,640 ft.
Programming over CAN
PHYSICAL SPECIFICATIONS
Height 3.53″ / 89.76 mm
Width 4.69″ / 119.18 mm
Depth 1.4″ / 35.8 mm
OPERATING SPECIFICATIONS & STANDARDS
Operating Temperature -10 to 60°C
Humidity (non-condensing) 5 to 95%
Product Certifications CE, C', UL Class 1 Div II
Environmental Rating IP65
For more info please visit the product's website.
Documents