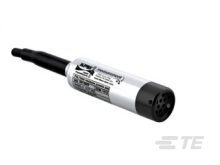 TE KPSI 700 1.0% FS SUBMERSIBLE LEVEL TRANSDUCER
Product Description
The KPSI 700 compact submersible level sensor can be configured to perform to specifications under most adverse, reactive conditions. It provides an anlog output signals such as 0-10V, 4-20mA (with or without temperature signal), and 0-2.5V.
Product Details
BENEFITS
Multiple analog output
Custom polyurethane or ETFE cable lengths
Welded 316SS or titanium body
Multiple nose piece styles
Custom level ranges up to 700 ft. (210 m) H2O
Optional lifetime lightning protection
Long life vent filter or aneroid bellows
Available molded cable seal
APPLICATIONS
Lift stations
Pump control
Level control
Surface water monitoring
Landfill leachate
Well monitoring
Groundwater monitoring
For more info please visit the product's website.
Documents