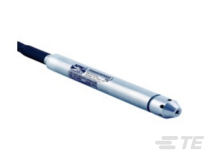 TE KPSI 335 0.05% FS SUBMERSIBLE LEVEL TRANSDUCER
Product Description
The KPSI 335 submersible level transducer provides repeatable, precision depth measurement under most adverse conditions. Every KPSI Transducer utilizes a highly accurate pressure sensor assembly specifically designed for hostile fluids and gases. The assembly is integrated with supporting electronics in a durable waterproof housing constructed of 316 stainless steel or titanium. The attached electrical cable is custom manufactured and includes para-aramid synthetic fiber members to prevent errors due to cable elongation, and a unique water block feature that self-seals in the event of accidental cuts to the cable.
Product Details
BENEFITS
±0.05% FSO Accuracy
Custom polyurethane or ETFE cable lengths
Welded 316SS or titanium body
Multiple analog outputs
Custom level ranges up to 700 ft. (210 m) H2O
Ported nose cap
Optional lifetime lightning protection
Available molded cable seal
APPLICATIONS
Surface water monitoring
Well monitoring
Groundwater monitoring
Pump control
Slug tests
Level control
Ballast tank control
For more info please visit the product's website.
Documents