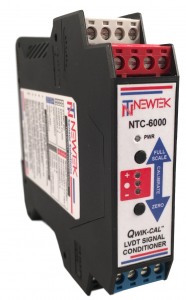 NewTek NTC-6000 Signal Conditioner
Product Description
The most advanced and user friendly LVDT signal conditioner
The NTC-6000 Qwik-Cal ™ LVDT Signal Conditioner from NewTek Sensor Solutions provides an intuitive AC-LVDT setup process. Calibration is accomplished with front panel null indicators and pushbuttons to set Zero and Full Scale output positions. The NTC-6000 offers a choice of excitation frequencies, multiple analog output types, accepts a wide dynamic range of LVDT outputs, indicates LVDT connection failures, and incorporates a 2-wire RS-485 digital communications port. Along with color-coded plug-in screw terminal connectors and a 2 year warranty, these are just a few of the many advanced features that make NewTek Sensor Solutions NTC-6000 module an extremely versatile smart LVDT signal conditioner.
Product Details
Features
Quick and easy setup with front panel push buttons and LED indicators
Selectable excitation frequency, analog outputs and bandwidth
Automatic excitation synchronization for multiple unit systems
Self-diagnostics for LVDT failure, disconnect, or short circuit
Digital communications via RS-485 2-wire multi-drop bus
Hot swapability — setup can be saved and reloaded via RS-485 port
Cybersecurity lockout and tamper detect
Works with nearly any AC LVDT, RVDT, or LVRT half bridge
Applications
Factory automation
Steam Valve Position Feedback
Governor and Throttle Valves
Materials testing
Packaging equipment
Turbine Control Systems
Dimensional Gaging
Nuclear Plants
For more info please visit the product's website.
Documents