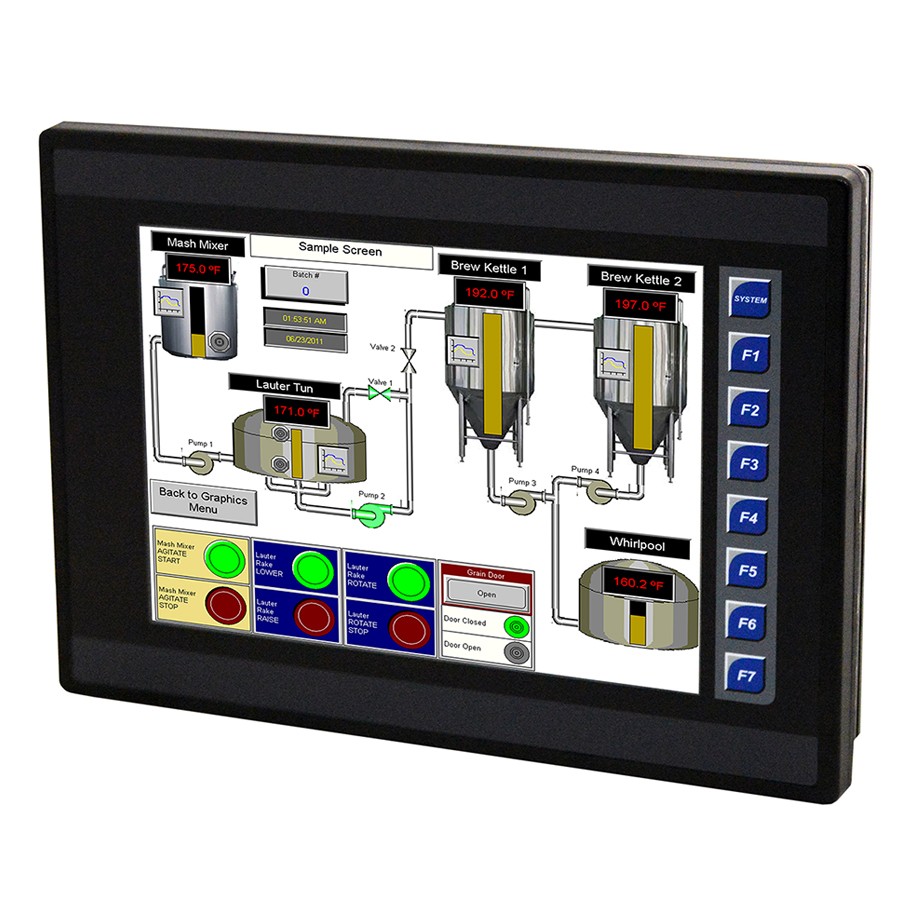 EXL10
Product Description
Logic engine features 1MB of application memory with a 0.013mS/K logic scan. Online Programming Mode (making logic changes on the fly without going thru stop mode) is supported.
Operator Interface features include:
640×480 LCD TFT color graphics display with a high resolution resistive touchscreen
5 function keys and a system key
USB 2.0 On-the-Go port (mini-B 5pin) is available for programming
USB 2.0 Host port (A) is available for exchanging files with USB FLASH drives
Two (2) RS-232/485 ports support RTU/Modbus Master/Slave, ASCII In/Out, and PLC/Drive downloadable protocols
Networking features include:
(2) built-in 10/100 Ethernet port
(2) integrated CAN ports that support CsCAN and either CANopen, J1939, or DeviceNet Scanner simultaneously
All units feature a microSD slot, supporting at least 32GB. COM option expansion modules are supported, including Profibus DP, 2ch/4ch Analog Output, Radio Modem, Telephone Modem, and GPRS Cellular Modem. The COM options are independent of the serial ports.
Product Details
CONTROLLER
Ladder Logic Memory 1 MB
Logic Scan Rate 0.013 mS/K
Removable Memory microSD
Local Comment Storage Yes
Floating Point Support Yes
AutoTune PID Capable Yes
Motion Commands Yes
OPERATOR INTERFACE
Characters / Pixels 640×480 (450 nit typical)
Display Technology 5.7" VGA TFT
Character Height selectable fonts
Number of Pages 1023
Fields or Objects per Page 1023
Total Keys 8
Function Keys 7
OEM Faceplate Available Yes
I/O
Built-in I/O Points 22-44
SmartStix, SmartRail, SmartBlock I/O Support yes, CsCAN and Ethernet
Digital Inputs / Outputs, max 2048 / 2048
Analog Inputs / Outputs, max 512 / 512
General Purpose Registers (words) 49,999
General Purpose Internal Coils (bits) 32,768
ETHERNET/INTERNET
Ethernet Support Standard, 2 Ports
Remote Access HTTP or EnvisionRV
Remote File Access FTP or EnvisionRV
SERIAL COMMUNICATIONS
Total Active Ports 3
RS-232 Ports / RS-485 Ports RS-232 & RS-485; RS-232 / RS-485
PLC / Drive Protocols Yes
RTU / Modbus Master / Slave Yes
Serial ASCII In / Out Yes
USB Ports (A and Mini-B) Yes
NETWORKING
Integrated CAN Networks 2
Supported CAN Networks CsCAN, CANopen, J1939 and DeviceNet Master (layer 3 as a selectable option)
Maximum CAN Distance 500m per segment, 4 segments maximum
Programming over CAN CsCAN only
Supported CAN Protocols CsCAN plus one of the following: CANopen, DeviceNet Master (layer-3 as a selectable option – one only), SAE J1939
PHYSICAL SPECIFICATIONS
Height 9.08″ / 230.60 mm
Width 11.94″ / 303.30 mm
Depth 2.43″ / 61.70 mm
I/O Module Depth COM option adds 1.08″ / 27.40 mm
OPERATING SPECS & STANDARDS
Operating Temperature -0 to 60°C
Storage Temperature -40°C to +60°C
Humidity (non-condensing) 5 to 95%
For more info please visit the product's website.
Documents