Description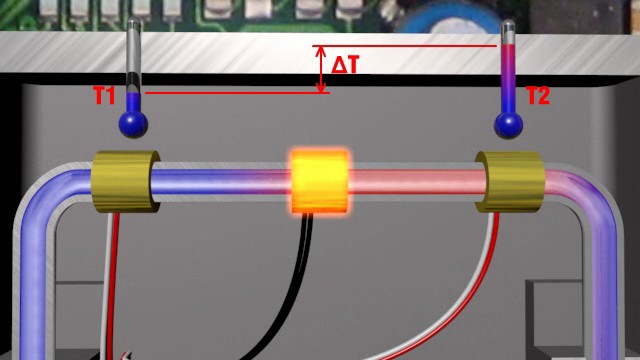 THERMAL MASS FLOW MEASUREMENT
Thermal Mass Flow Meters and Controllers make use of the heat conductivity of fluids (gases or liquids) to determine mass flow.
Thermal mass flow sensor for liquids, inline principle
Liquid mass flow meters of the LIQUI-FLOW™ series are built around a stainless steel tube without any moving parts or obstructions. The heater/sensor assembly is arranged around the tube and, by following the anemometric principle, a constant difference in temperature (ΔT) is created and the energy required to maintain the ΔT is dependent on the mass flow rate. Due to the benefits of the unique patented sensor, the fluid will be warmed to a maximum of 5°C, thereby making the LIQUI-FLOW™ Series suitable for fluids with low boiling points.
CORIOLIS MASS FLOW MEASURING PRINCIPLE
A Mass Flow Meter operating on the "Coriolis principle" contains a vibrating tube in which a fluid flow causes changes in frequency, phase shift or amplitude. The sensor signal is fed into the integrally mounted pc-board. The resulting output signal is strictly proportional to the real mass flow rate, whereas thermal mass flow meters are dependent of the physical properties of the fluid. Coriolis mass flow measurement is fast and very accurate.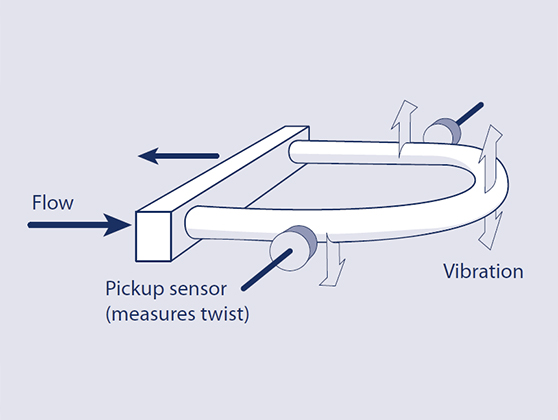 ULTRASONIC LIQUID FLOW MEASUREMENT
The operation of Bronkhorst® ES-FLOW™ flow meters is based on the propagation of ultrasound waves inside a very small, straight sensor tube, without obstructions or dead spaces. At the outer surface of the sensor tube multiple transducer discs are located which create ultrasonic sound waves by radial oscillation. Every transducer can send and receive, therefore all up- and down-stream combinations are recorded and processed. By accurately measuring the time difference between the recordings (nanosecond range) the flow velocity and speed of sound is calculated. Knowing these parameters and the exact tube cross-section, the ES-FLOW™ is able to measure liquid volume flows in the range of 4 up to 1500 ml/min.
The distinctive character of this flowmeter is that it's capable to measure the actual speed of sound, meaning that the technology is liquid independent and calibration per fluid is not necessary.